Paper Pulper Machine Drum Screen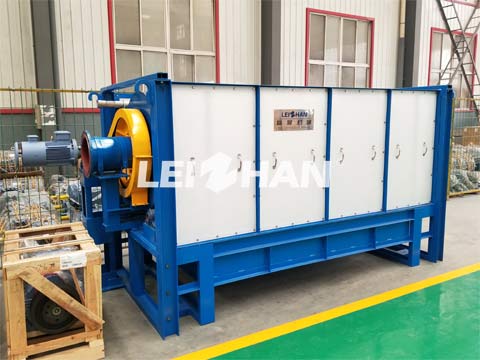 Paper pulper machine drum screen can realize coarse screening of waste paper pulp from high consistency hydrapulper, the large and heavy impurities can be removed, so reduce the following screen equipment burden, drum screen has been widely used for its high porduct capacity, low motor power and almost no fiber in the tailings.
How Does Drum Screen Operate?
ZST drum screen consists of sieve drum, belt transmission and tug, retaining wheel, slurry tank, and water pipe. When the sieve drum rotates, the slurry is pushed forward along the spiral guide vanes such as the inner circumference of the sieve drum, and the fine pulp and fine impurities pass through the φ8-φ14mm sieve hole to the sizing groove under the action of gravity, and the geometric shape is large. The light and heavy impurities are slid to the end of slag and are removed. The water spray device sprays a certain pressure of water in a fan-shaped plane, rinsing the fibers on the impurities and diluting the pulp, and removing the impurities to the utmost extent, while the fibers are substantially not lost.
Leizhan can supply complete set of pulping line for paper mill, with high yield and low consumption, we have built long term cooperation relationship with many customers. if you have any needs, kindly contact with me: leizhanpulper@gmail.com.