How To Install Vibrating Screen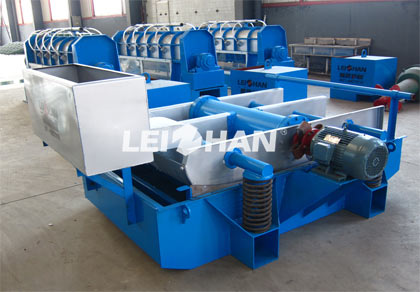 ZSK Series vibrating screen is developed with reference to foreign equipment. With the features of reasonable design, strong screening ability, it is mainly used for coarse screening of waste pulp. Which is a more advanced screening equipment in the pulp and paper industry.
Pulp Vibrating Screen Installation Program
1. According to the size of foundation drawing, the position of center line and the foundation of pouring shall be determined. The position deviation of the reserved hole of foundation bolt shall not exceed 10 mm.
2. After the foundation is cured, cleaning base hole, the threaded part of anchor bolt is oiled, penetrated into the bolt hole of machine, the nut is placed, and place wedge-shaped horn on the foundation.
3. Hang the equipment on the horn and insert bolt into the reserved hole so that the center line of equipment coincides with basic center line.
4. Adjust the vertical and horizontal level of equipment and make the elevation and level of equipment meet the requirements and grout into the bolt hole once.
5. After the curing period, accurately correct the axial level of machine, tighten the foot nut and perform secondary grouting.
6. Check the motor steering. The motor should rotate toward the slag discharge end above the wheel.
Leizhan supply complete pulp equipment and paper machine for paper plant, and Vibrating Screen is one of the high efficiency but low cost pulping machine. Any inquiry, feel free to contact: leizhanpulper@gmail.com.