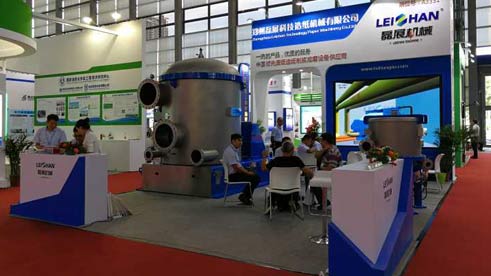 In 13-15th, Septem, 2017, Leizhan attend the 2017 Shenzhen CIPTE Conference for exchanging technology about paper and pulp with other paper industry and communicate the paper industry development trend.
2017 CIPTE Conference
CIPTE Conference is a professional platform for paper makers to promote the development of China's paper industry, display the technical achievements of paper industry. It has become one of the most influential and popular academic event of paper industry.
In 2013 CIPTE, 2014 CIPTE, 2015 CIPTE and 2016 CIPTE,more than 200 exhibitors from more than 20 countries and regions, such as Metso, Voith, Andritz, China Paper Machinery Corporation, ABB, Siemens,Finnish pavilion and other leading enterprises in paper industry attended the exhibition. CIPTE Conference was held during the exhibition. The topics of CIPTE Conference were the hot topics of paper industry, and were well received by exhibitors and audience. CIPTE has become the top brand exhibition of paper machinery in China.
Leizhan With 2017 CIPTE Conference
Leizhan has made great achievements and development in paper and pulp filed with 37 years experience, the equipment are exported at home and abroad. Attending the conference not only can strength paper industry enexchanges and cooperation, but also will expand the company influence and further boost the technology to promoting enterprise progress and even the whole industry development.
Booth Information
Time: 13th~15th, September, 2017
Booth: NO.A3331
Location: 2017 ShenZhen CIPTE Conference
Email: leizhanpulper@gmail.com